Welcome to our Ocicat website! We have been Ocicat breeders and exhibitors since 1998.
CATIATORS OCICATS
We specialize in preserving the mild "purrsonality" with the wild spots, the Ocicat! As a purebred, pedigreed cat, the Ocicat has been bred for predictable temperament, size and beauty. The Ocicat, regardless of its name, is not bred from a wild cat but is entirely domestic, so is no risk for instinctual, wild behavior and personality issues.
OUR OCICAT WINNERS
Our Ocicats are raised from CFA and TICA registered Grand Champion, Regional and National/International winning lines, since our goal is to create show winners. But not every kitten is destined to be a show cat. Our Ocicats are playful, friendly, and affectionate, they make great pets too. See the links above for more information.
Click on a cat's picture for the pedigree.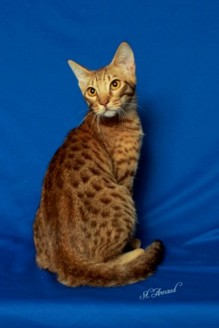 Catiators Stinson Reliant
Moirai Par Avion x Catiators C-47 Dakota